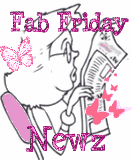 Hello friends! Today I am participating in Fab Friday Newz. Find all about it
here
! I was trying to think if I had any big news to share, but decided on a couple of smaller things.
First, I am almost finished re-reading the third book in the twilight series. In fact, I will finish before the day is done. I like to read these because they are easy and quick. I ♥ reading! So much!
Second, I am excited to be seeing family this weekend. We are going to a wedding on Saturday and to a family luncheon/gathering/thing on Sunday. I'm glad I will be able to hang out with the ones I love.
Another FFN (Fab Friday Newz) is that after this wedding (my mother in law is a wedding coordinator and is doing this wedding) I will be able to get some sewing done. Maybe I will be able to actually complete a project. Or two! Then I will def. be posting some cute things!
Well, Please check out Neuffj's blog. :D She is way cool and you can share your own news and link it from her site! Have a wonderful weekend everyone!
***Update*** Today is a
wonderful
day! Finance department invited my CP (cube partner) and I to a hallway Ice cream Social! Oh it was divine!