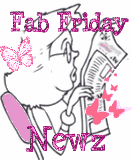 Fab Friday Newz. First, Its friday! That is the best. Second, I have made Jesse's invitations. Now I just am handwriting all the information for the invites. I think Im getting done with these things early, but Im excited because I dont want to procrastinate!
And-- the best news. I completed a project! My blog should be called: The unfinished project blog. So, A coworker is having a baby shower today and so I made this to go into the big basket that was put together.
I originally had a cute monkey, giraffe, lion print on it but then I found this funky fabric and decided to take the whole thing apart and re-do it. That is what took so long. I like the way it turns out but this morning I found out she is having a boy. I wonder if she will think its weird that there is so much pink! :D
I'm sick so sorry its so short. But I hope everyone has a wonderful weekend.