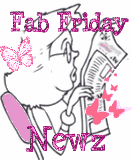 Today is Friday! That is the first part of my news! The second part is we are going to a wedding reception tonight. I love weddings. How lovely! I am really excited and I think Im going to take my camera along and see if I get some good pictures. :D
I am working (slowly) on compiling a list of 101 goals. I read on a fellow blogger's site about the 101 in 1001 project. Complete 101 goals in 1001 days (about 2.75 years) and so my sister and I have decided to do it. Now just to come up with the list!!!
Okay, that is all for today. I hope everyone has a fabulous friday and write down your news! Click the button up to and it will send you to The Neuff and you can add your news to the list! Ciao!