Happy Friday to all the readers!!
It's time for another round of
FAB FRIDAY NEWZ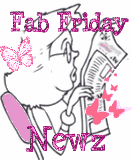 This Friday my news is:
1. I got my Christmas presents mailed out to my family in California ( to me, this is fabulous!!! It's been coming together for so long, and I thought it might be late, but no, it's scheduled to be delivered next Wednesday!!!)
2. On a sad note - my poor little man got shots! Yes, I know, they are good for him. But I can't help shed a tear every time he gets poked! He got extra shots this visit because of flu shots. :( Poor guy!!!
3. I filled almost all of my baking orders!! I still have one for next Monday, but the rush is over! Phew!!!
What's everyone else's FFN???
My News:
My husband is doing well with his finals. Looks like he might pull of straight A's this semester
I signed up for a Creative Writing Class for next semester. Yikes.
I am extremely exhausted and stressed. Why is this good? Its good that its almost Christmas and the stress can lessen.
And, since my hubs doesnt read this blog, I can say that I bought tickets for he and I to go to our first play in January! Exciting!